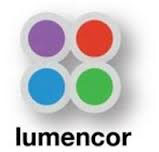 SPECTRA light engine ®
Lumencor's light engines are unique, solid state illuminators, ideally suited for use with fluorescence microscopes and bioanalytical instruments. SPECTRA light engines enhance overall microscope performance and reduce cost. Flexible designs provide as few as two and as many as seven color bands with a variety of delivery optics.
The SPECTRA is optimized for the most common fluors and fluorescent proteins used in bioanalysis today. Bright outputs cover the visible spectrum and beyond, with particularly impressive performance in the typically underserved visible spectral regions- green, yellow and red. The optically independent outputs are well suited for both live and fixed cell analysis. Bandwidths for any SPECTRA light engine may be tailored for specific spectral needs.
All outputs are optimized for high performance in terms of stable, durable, powerful, switchable light. Output power is independently selectable for each color band. Micro-second switching among color bands (5-10 kHz) is enabled electronically- eliminating all mechanical shuttering. SPECTRA light engines are the ideal choice for customers who wish to address unique spectral bands with independent electronic control in systems critically synchronized with camera exposure times.
SPECTRA light engines may be used with any major brand microscope, connecting via direct couple, liquid light guide or optical fiber. SPECTRA light engines are pre-aligned, require no maintenance, and need no bulb replacements.
FEATURES
Source technology
multiple solid state sources operating independently
Maximum number of outputs
six discrete source bands through UV-VIS-NIR
Filtering
customer may select bandpass filters
Switching speed
5-10 kHz with turn on/off ~ 10 μs
Adapters
optical fiber, liquid light guide and custom optics on request
Easy to install
pre-aligned
Control Interface
RS232 connector for SW or optional Control Tablet
TTL connector for on/off triggering
Lifetime
> 20,000 hours with more than 70% initial intensity
Camera synchronization
Sophisticated electronic shutter and switching available
Power requirements
220W, 28-30VDC, 7.9A
Weight, Dimensions
3.6 kg, 28 x 19 x 10 cm
Warranty
36 month warranty to end user