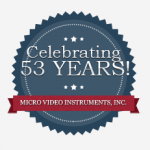 In 1962 the Atlantex Corporation was founded to retail high quality microscopes to the biomedical and industrial institutions of New England. Several years later, the Company became the Atlantex & Zieler Instrument Corporation when world renowned microscopist and author, Wolfgang Zieler, joined the organization.
The 1980's brought advances in electronic imaging equipment, which helped stretch the boundaries of light microscopy. In keeping with the times, we changed our name to Micro Video Instruments (MVI).
The distributed products for which MVI is a Value Added Reseller (V.A.R.) include Nikon microscopes, as well as electronic, optical, and mechanical equipment manufactured by the best known names in the microscope industry. The Company represents these manufacturers in the six New England states of Maine, New Hampshire, Vermont, Massachusetts, Rhode Island and Connecticut as well as in Upstate New York. In addition to field sales representatives, MVI also offers cleaning & repair through our staff of trained service technicians.
Over the years, Micro Video Instruments has distinguished itself by its ability to customize microscopes to satisfy the demanding and ever-changing requirements of researchers. The equipment featured on our manufactured products page represents the more popular of these items. We market these products internationally.
We also invite you to visit our clearance items page which lists new and used systems and accessories priced attractively to reduce our inventory.