X-Cite® XLED1
Advanced LED light source for fluorescence excitation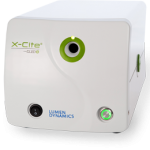 The X-Cite® XLED1 is a high power LED light source designed to optimize fluorophore excitation with unmatched field uniformity at the specimen. Its unique plug-and-play modularity allows the system to evolve alongside changing research applications, with easily interchangeable LED modules. With unprecedented wavelength switching speeds to capture fast cell dynamics and advanced triggering options including X-Cite® Live Cell ModeTM to extend live-cell imaging experiments, the X-Cite® XLED1 represents the industry's next generation of fluorescence LED illumination.
Features & Benefits
-Maximum power and individual LED control  -Use up to four high power LED modules with fine excitation control while balancing illumination intensity between channels and protecting specimens against photodamage.
-Unmatched field uniformity at the specimen -X-Cite® microscope adaptors lead the industry in field uniformity without the need for alignment, while saving time on maintenance and ensuring peace-of-mind in experimental results.
-Adaptable plug-and-play modularity -Each LED module and associated optical components can be quickly swapped in the field for another wavelength depending on the needs of your application.
-Rapid wavelength switching to capture fast cell dynamics -Each LED module is designed to integrate and easily interchange individual excitation filters, allowing accelerated wavelength switching beyond the scope of motorized filter wheels.
-Flexible triggering for sequential or simultaneous imaging -Triggering sequences can be combined with a high degree of control over individual LED intensity to excite and image multiple fluorophores when examining very fast moving specimens or for live-cell ratio imaging.
-X-Cite® Live Cell ModeTM to limit photobleaching and cellular damage -Researchers can extend the time frame of their live-cell imaging experiments by reducing the degree of free radical formation caused by the continuous illumination of fluorescent proteins.